About Gideon Force
| | |
| --- | --- |
| | Gideon Force is an Artist Camp compsed of Cookie The Herbalist, Baba The Fayahstudent and Redwan Fayahwan. |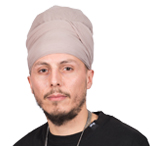 Cookie The Herbalist
Reggae Dancehall Artist. Part of the Gideon Family since 2007.
Bio:
Like many other Reggae artists, Stefano Raschi a.k.a Cookie the Herbalist made his first steps on stage at a very young age. He started singing in a church choir in Italy when he was only six years old. The last years he used to tour althrough Switzerland with many different Hip Hop acts and with his Home sound the Bombo Clan Soundsystem.Read more...
Cookie was to be heard on countless Mixtapes and on various CD's of the Bombo Clan Sound and featured many Hip Hop acts. Even a combination with the hyped UK-Mc's of the London Zoo was recorded and found it's way to English Radio stations. But all that should only be the beginning.
Since 2007 Cookie the Herbalist is a part of the Gideon Production Artist camp, and summer 2007 was already a very promising start of that collaboration.
As support act on Jah Masons Tour he appeared at the Rototom Sunsplash in Italy (the biggest Reggae festival in Europe) and at the Rumble Reggae Festival in Germany. In the following years Cookie shared the stage with superstars like Ziggy Marley, Julian Marley, Nas & Damian Marley, Junior Kelly just to name a few.
In January 2008, Cookie released the song "Don't you tell me" on Rootdown Records I love – Riddim. This song made it to almost every Swiss radiostation and was celebrated over months by the biggest Swiss Internet radio DRS Virus. That was the starting signal to Cookies still continuous presence in the Swiss Radio Playlists.
In Septemer 2008 Cookie the Herbalist's first official EP "The Good Weed" was released. It contains riddims of European Reggae giants like the Ganglords or the House of Riddim Band. Even a combination of Cookie with Switzerlands Reggae star Cali P is to be heard on it. This tune called "Cyaan Stop" also made it into Red Bull's and Salomon's Freestyle Video "Everyday Is A Saturday" and reached large international attention.
In early 2009 Cookie released two hot new tracks for the Dancehall. One of them called "Who Dem". A powerful tune which gained lots of rewards in the Dancehall.
Then finally the single "Don't You Tell Me" was released by Gideon Production with the nice hip hop flavoured bonus track "Words".
The tune "Stories Pon Stories" made it to the Weedy G/African Beat – Bubbler Riddim – Selection. Big tune dat!!
After countless shows and an outstanding EP, three totally different single releases in just one year and many studio sessions, time finally came to release Cookie's debut album "Like A Tree" in 2010. It's first single release "A Girl Like You" a sweet lovers tune alongside the charming Jamaican singer Sophia Squire announced the album and dropped like a bomb. Before the tune was even officially released it got large airplay on Radio DRS 3 the biggest Swiss Radio for urban music. In just a few days it turned to a summer hit and got played on almost every Radio Station.
The Album "Like A Tree" was released three weeks later and convinced radio editors, fans and journalists. With 15 brandnew and varied songs Cookie started the "Like A Tree"-Tour with his first very own backing band The Spitire Band. This Band consists of some of the best Reggae and Jazz musicians to be found in Switzerland. With his support act Baba The Fayahstudent and the hot female dancers of Riddim Vibration, Cookie and Band toured around Switzerland and played over 40 shows in less than a year. Cookie appeared in a couple Swiss and foreign TV-shows, gave lots interviews for magazines, newspapers and so on and promoted his album very well.
Cookie's unstoppable will to deliver good music with message and full of vibes to his audience and to kindle a pure firework are very unique and spectacular….
So, like we told you some time ago: The Singjay can't be stopped!

Baba The Fayahstudent
Reggae Dancehall Artist. Part of the Gideon Family since 2010
Bio:
It is meanwhile over 10 years ago since the first time I had a Mic in the hand and let my thought run free on a beat and a relationship developed until today continued. The music led Baba as well as Frontlinetroop, his Hip Hop crew, from the streets of Baden to the stages and club at home and abroad (Italy, Germany, SloveniaÖ). At the moment he is touring with Cookie The Herbalist on his Like A Tree tour. Read more...
Raggamuffin with the SkankiníLion Tribe Soundsytem in the dancehalls of the Swiss Reggae scene, Band shows with the Spitfire Band and so on and so onÖ
Baba has plentifully collected experience in the past years and he also worked on his style. Since the establishment of the soundsystem he use above all the possibility to realizing fully his, meanwhile to a Raggamuffin mutated, flow.
ÑMy Italian roots induced me to toast from the outset in my native language and meanwhile also in English . ì
Baba The Fayastudent stands for pure energy on stage and this was the key to the Gideon Production camp, which he joined in 2010. He released a bunch of Tunes like "Greatest Gift" accompanied by an Video and "Girl" in 2011. In early 2012 he collaborated with Blend Mishkin (Greece) on "Ready fi dis" and with Don Ranking (Switzerland) on "Leggo me hand". These national and international feedbacks motivated Baba, to release his first solo project in form of an EP: "My Way". Six Tunes original Baba The Fayahstudent! And still more to come!
Redwan Fayahwan
Reggae Dancehall Artist. Part of the Gideon Family since 2012
Bio:
Rithwan Nikpani Addy aka Redwan Fayahwan ist in Ghana als Sohn begabter Musikereltern geboren. Sein Vater war nicht nur sehr erfolgreich als Musiker tätig, sondern waltete auch als C.O. der Academy of African Music and Art. Musik war also immer Teil von Redwans Leben. Egal ob im Kirchenchor oder als junger Reggae Artist, seine Ziele waren immer schon eng mit der Musik verknüpft. Doch Ghana macht es den Musikern nicht leicht. Read more...
Wer kein Geld hat kriegt keine Möglichkeit eigene Song im Studio aufzunehmen und so bleibt den jungen Talenten oft nur die Strasse. Da wird dann aber umso heftiger gesungen, getanzt und es braucht einiges sich gegen die grosse Konkurrenz durch zu setzten.
Als Redwan dann im Jahre 2011 in die Schweiz reiste, sorgte er auch hier sofort für Aufsehen. Die Energie und die Bühnenpräsenz die er an den Tag legt, zeugt von seiner Herkunft und dem harten Kampf auf den Strassen Ghanas. Kaum war er hier angelangt, landete er auch schon im Studio von DJ Flink (Taffs), welcher mit ihm die ersten Songs produzierten. Diese landeten beim Schweizer Reggaelabel Gideon Production und von da an war klar; Redwan wird Teil des Gideon Artist Camps.
Während er nun weiter an der Debüt Ep arbeitete, tourte er zusammen mit Lifted Selection Sound aus Glarus durch die Schweiz sammelte weitere Bühnenerfahrungen.
Zeitgleich arbeitete er mit Max Rubadub im Soundmax Studio an seinen Skills und produzierte da auch den Song "Gimmi The Weed". Mit diesem Song, wird er seine Karriere als "Recording Artist" starten und den Sommer 2012 einläuten. Die Ep folgt dann kurz darauf.
Redwan ist voller Energie und Tatendrang und wird noch viel von sich hören lassen. Für ein bisher unbeschriebenes Blatt, überzeugt er auf anhieb mit unglaublichem Talent und wird der Schweizer Reggaeszene einen weiteren Act beschaffen der International für Aufsehen sorgen wird.