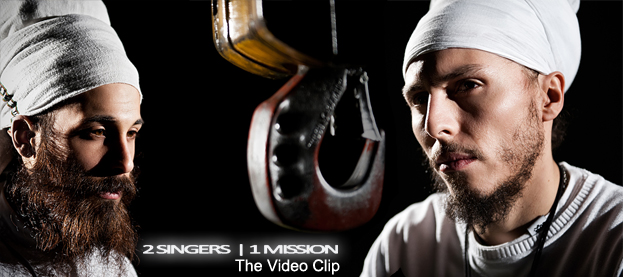 "2 Singers / 1 Mission" that's the name of our latest release starring our two label acts Cookie The Herbalist and Baba The Fayahstudent. This release shows how the very same beat can be interpretated in totally different ways.
While Baba The Fayahstudent big ups his wife and mother of his children on "Greatest Gift", Cookie singjays about "The Same Ol' Story" which is waiting on us almost daily in this world out there.
As it is usual in Reggae we wanted to present a nice little medley video for this release.
It wasn't very easy to find a common style and atmosphere due to the thematic diversity of both tunes. But on the search for it, we figured out that it doesn't really matter if we're standing in a green field or inside a grey factory building, it doesn't matter if we're old or young if we're crying or smiling. Because music touches all of us in a different own and specific way. Where one will expect a lovesong from a certain sound and melody another will maybe expect a melancholic song from the very same sound. So it doesn't really matter at all where the video takes place, the music will hit us in it's own way anyway.
And it's exactly this idea that we wanted to convert to a video. So we placed our two artists in front of a grey wall, added some "everyday life" – video projections to it and then we've let the songs work with their own specific and strong lyrical power.
These two tunes will awake completely different emotions and deliver totally different storys although having kind of the same rooted and grounded vibe.
On a cold and freezing winter evening we drove to a remote factory building somewhere in a hopelessly sad and dirty industrial area. On the other side of the building, construction workers and mechanics worked hard with huge machines while our film team illuminated the grey walls with exspensive camera material.
The air smelled like boiling oils and gasses and heated up metal. When everything was ready and set and the first melodies from Baba's song "Greatest Gift" rang out the shooting could finally start. A bit later when Baba's part was filmed, the same riddim rang out again but this time with Cookie's a bit more melancholic song "Same Ol' Story".
Our brandnew medley video with the two songs on the Pot Of Gold Riddim (by renomated german producer Ganjaman) is to admire starting from today on Youtube & Co. The "2 Singers I 1 Mission" single release is available on Itunes & Co. since December 12, 2011.
Yours sincerely
The Gideon Production Family
Credits:
Directed, produced and edited: Pascal Reinmann | Light: Marcel Rickli | Assistants: Adrian Rickli, Urs Reinmann |Idea, Storyboard: Pascal Reinmann | Setphotos: Marcel Rickli | Location: RCT Hydraulic Tooling AG, Klus | Label: Gideon Production | Recordet by: M. Studer at Soundmax Studios | Mixed by: M. Studer | Riddim by: Ganjaman | Mastering: Mastering by SoulForce | Cover Artwork by: D. Berger for Gideon Production | Cover Pics by: Spanks | Balboa Spanks You | Cat. No.: GP-005 | LC: LC-24940 |Web: www.gideonproduction.ch | Distribution: Soundquake
Pressdownload
Pressheet_2011_2Singers1Mission_Video (pdf file / german)
Pressheet_2011_2Singers1mission_Video_e (pdf file / english)
Video Download Page:
http://www.gideonproduction.ch/gideon/?page_id=1874
(get in contact with us for your password)