The saga continues – We open up another chapter of the 2 singers 1 mission tale. Cookie serves his heart on a silver tablet and Baba tries to get a clou out of the society. Both songs are now available as digital download. Get your copy now: Itunes
To all Mediapeople: Check our "Media Download Center" now and get your listening copy. Click here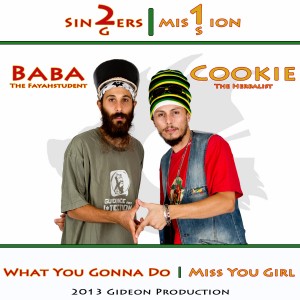 Artist: Cookie The Herbalist & Baba The Fayahstudent
Album Title: 2 Singers 1 Mission Part 2
Tracks:
1. Miss You Girl | Itunes
2.What You Gonna Do | Itunes
Release Day: 30.08.2013
Presstext: (German version below)
Label: Gideon Production
Publishing: We Collect Things / Edition Rootdown Publishing
Recorded at: Soundmax Studio / Bonobowood Studio
Mixed by: Max RubaDub
Riddim by: Mista Sanchez
Mastering: Mastering by Fabian Esser / SoulForce Mastering
Artwork by: M.Barbagallo for Gideon Production
Coverpic: Two M Arts Photography
Cat. No.: GP-048
LC: LC-24940
Distribution: Digital / Nation Music
2013 – And the struggle goes on. Cookie The Herbalist and Baba The Fayahstudent are serving two new tunes for the "2 Singers 1 Mission" saga.
These songs are timeless, not only because the lyrics are taken from real life.
Both songs are based on a swiss Roots Reggae Riddim, produced by the yet unknown Mista Sanchez. In "Miss You Girl" Cookie comes to terms with the breakup from his beloved. Baba delivers a socially critical song, asking "What You Gonna Do"?
Even if the situation seems sad, it ain't the end! Both artists are working for more blazing action from Gideon Production. Redwan Fayahwan just released a video of "Wanna Be Rich" and all three together are featured on the "Pon the Highway" clip. All these and much more can be discovered on: www.gideonproduction.ch
German Version:
Der vom Berner Newcomer-Produzenten Mista Sanchez; in Zusammenarbeit mit Max Rubadub; erschaffene Riddim, schaffte es Cookie und Baba sofort zu packen und war Inspiration für diese zwei brandneuen Lieder, welche wir Euch hiermit stolz und mit Freude vorstellen.
Mit "Miss You Girl" hat es Cookie erneut gekonnt geschafft, uns einen zuckersüssen, zugleich auch tiefgängigen Love – Song zu schenken. Melodiös und mit einer gut fühlbaren Mischung aus Schmerz, Liebe und Trauer, lässt er seinen Gefühlen freien Lauf und spricht ;oder besser; singt, damit allen gebrochenen Herzen da draussen, wortwörtlich aus dem Herzen! Aber keine Angst jetzt, denn nach jedem Ende folgt ein neuer Anfang! "Miss You Girl" ist der Übergang dazu! Geniesst es!
Baba, Cookie's Mitstreiter auf 2 Singers 1 Mission, zeigt mit "What You Gonna Do" wiederum seine Stärke, soziale Missstände, situationsgerecht und in feinster Raggamuffin-Manier zu verpacken und uns mit seinen  akzentuierten Rhymes und Metaphern zum Denken und Aufwachen zu animieren.

Dies und vieles Andere, wie z.B. Redwans "Wanna Be Rich" Video oder das Gideon Allstars "Pon the Highway" Video, findet man wie gehabt auf ww.gideonproduction.ch
Youtube Preview
Cookie The Heralist – Miss You Girl
httpv://www.youtube.com/watch?v=_NANqaeZRc8
Baba The Fayahstudent – What You Gonna Do
httpv://www.youtube.com/watch?v=itxGAs5G0B0
GET YOUR COPY RIGHT HERE: ITUNES